DOR de AUTOR.Pop-Up Shop de bijuterie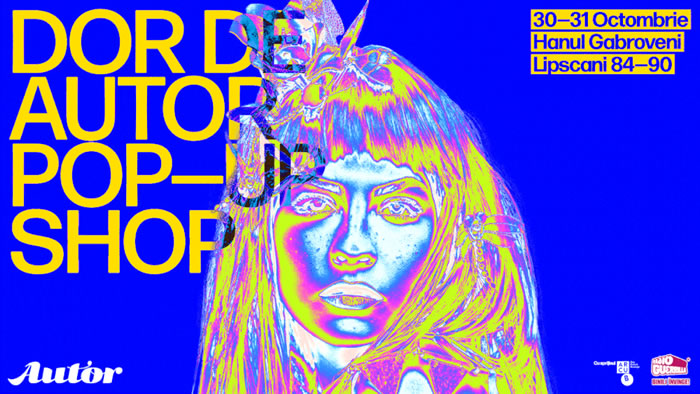 DOR de AUTOR Pop-Up Shop
Dor de normalitate. Dor de apropiere. Dor de bijuterie.
Targul pregateste cu drag si spor un eveniment intim, efervescent, in ultimul weekend din octombrie - o sarbatoare a frumosului plina de bijuterie unicat, oameni faini, cafea fierbinte si experiente autentice.
DOR de AUTOR Pop-Up Shop este un targ la scara mai mica, adaptat conditiilor si contextului actual.
Descopera o selectie de bijuterii contemporane realizate de artisti romani si internationali, activi si creativi: Cleopatra Cosulet, Raluca Buzura, Miruna Belicovici, Maria Paltin, Lucienne Buga (Republica Moldova), Niki Stylianou (Grecia), Alys Rocks, Paola Castro (Portugalia), Anayd Blu, Bizar Concept, Fabiana Fusco (Italia), Frammenti Design (Italia), Atelierul de Portelan, The Sense of Beauty (Olanda), Mesteshukar ButiQ, Miracolore, Jkult, Diana Pantea Jewellery, GI Jewellery, Catalina Geru, Iunie Jewelry, Teodor Siminic.
Lasa-te purtat de dor spre noi, pentru ca si noua ne este dor de tine.
Parteneri media: Guerrilla Radio, Harper's Bazaar, Adevarul, VICE Romania, Luxury Magazine, Designist, IQads & SMARK, The Institute, igloo, Business Magazine, Ziarul Financiar, Gentleman's Journal, DreamingOf. Net
Potrivit reglementarilor in vigoare (hotararea nr. 76 din 30.09.2021), accesul la eveniment se face numai cu respectarea urmatoarelor prevederi:
prezentarea certificatului verde care atesta vaccinarea anti SARS-CoV-2 (minim 10 zile de la finalizarea schemei de vaccinare) sau document care atesta faptul ca persoana se afla in perioada cuprinsa intre a 15-a si a 180-a zi ulterioara confirmarii infectarii cu SARS-CoV-2;
purtarea mastii de protectie este obligatorie, pe nas si pe gura, pe toata durata evenimentului.
Program:
sambata, 30 octombrie – duminica, 31 octombrie
orele: 10:00 - 19:00
Locatia:
Hanul Gabroveni - ARCUB, Strada Lipscani 84-90
Bilete - 20 lei online presale, 25 lei la intrare
Tur ghidat special, hosted by Dan Piersinaru (limited availability) - 50 lei
Detalii: DOR DE AUTOR, Pop Up Shop de bijuterie, octombrie 2021