Targul 100% Romanesc 2016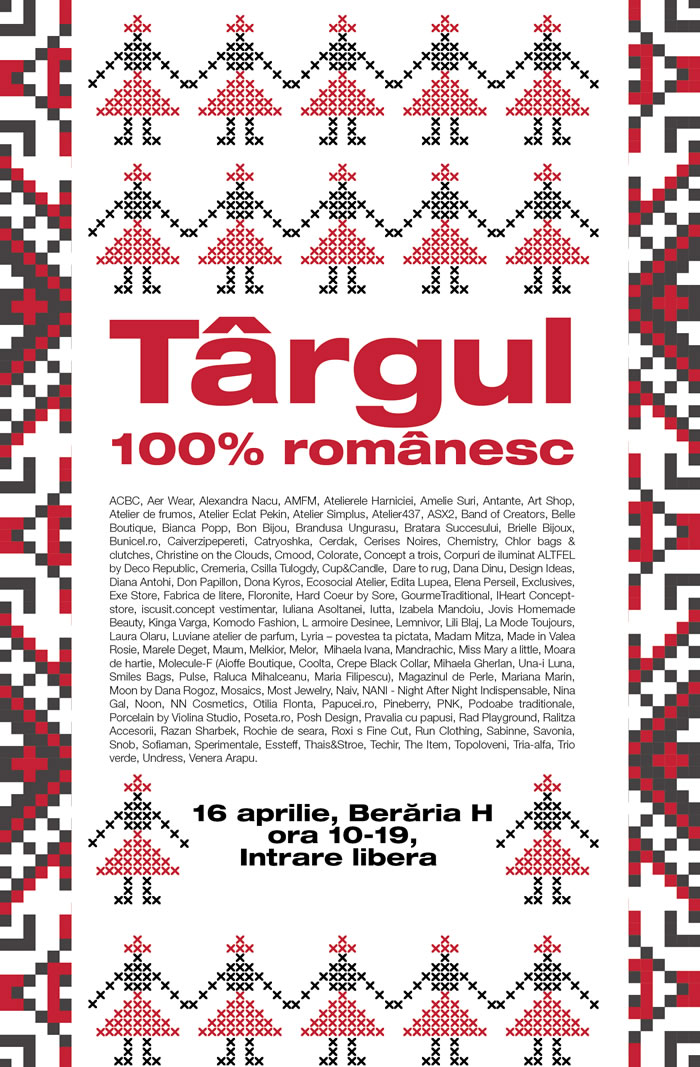 Peste 100 de branduri romanesti de haine, bijuterii, mobila, accesorii, dar si designeri cool si evenimente surpriza te vor astepta sambata, pe 16 aprilie, intre orele 10.00 si 19.00, la Beraria H, in Bucuresti. Targul 100% Romanesc va aduna in acest spatiu branduri romanesti cunoscute de fashion, de bijuterii, de design interior, de accesorii, dar si tineri entuziasti si simpatici la inceput de drum, mici afaceri pornite cu drag si foarte multa pasiune.
Va place sa purtati lucruri create de designeri romani? Va incanta ideea unui decor romanesc? Sau ati vrea sa faceti cadouri simpatice, dar cu emotie? Toate acestea, la targul 100% Romanesc, din 16 aprilie.
Cine participa? ACBC, Aer Wear, Alexandra Nacu, AMFM, Atelierele Harniciei, Antante, Art Shop, Atelier de frumos, Atelier Eclat Pekin, Atelier Simplus, Atelier437, Band of Creators (Edita Lupea, Laura Olaru, Cup&Candle, Thais&Stroe, ASX2, Amelia Suri, Iuliana Asoltanei, Dana Dinu), Belle Boutique, Bianca Popp, Bon Bijou, Brandusa Ungurasu, Bratara Succesului, Brielle Bijoux, Bunicel.ro, Caiverzipepereti, Catryoshka, Cerdak, Cerises Noires, Chemistry, Chlor bags & clutches, Christine on the Clouds, Cmood, Colorate, Concept a trois, Corpuri de iluminat ALTFEL by Deco Republic, Cremeria, Csilla Tulogdy, Dare to Rug, Design Ideas, Diana Antohi, Don Papillon, Dona Kyros, Ecosocial Atelier, Elena Perseil, Exclusives, Exe Store, Fabrica de litere, Floronite, GourmeTraditonal, Hard Coeur by Sore, IHeart Conceptstore, iscusit.concept vestimentar, Iutta, Izabela Mandoiu, Jovis Homemade Beauty, Kinga Varga, Komodo Fashion, L armoire Desinee, Lemnivor, Lili Blaj, La Mode Toujours, Luviane atelier de parfum, Lyria - povestea ta pictata, Madam Mitza, Made in Valea Rosie, Marele Deget, Maum, Melkior, Melor, Mihaela Ivana, Mandrachic, Miss Mary a little, Moara de hartie, Molecule-F (Aioffe Boutique, Parlor, Coolta, Crepe Black Collar, Mihaela Gherlan, Una-i Luna, Smiles Bags, Pulse, Raluca Mihalceanu, Maria Filipescu), Magazinul de Perle, Mariana, Marin, Moon by Dana Rogoz, Mosaics, Most Jewelry, Naiv, NANI - Night After Night Indispensable, Nina Gal, Noon, NN Cosmetics, Otilia Flonta, Papucei.ro, Pineberry, PNK, Podoabe traditionale, Porcelain by Violina Studio, Poseta.ro, Posh Design, Pravalia cu papusi, Rad Playground, Ralitza Accesorii, Razan Sharbek, Rochie de seara, Roxits Fine Cut, Run Clothing, Sabinne, Savonia, Sofiaman, Sperimentale, Essteff, Techir, The Item, Topoloveni, Tria-alfa, Trio verde, Undress, Venera Arapu.