Sole & Shape – 1st Sneaker Event
---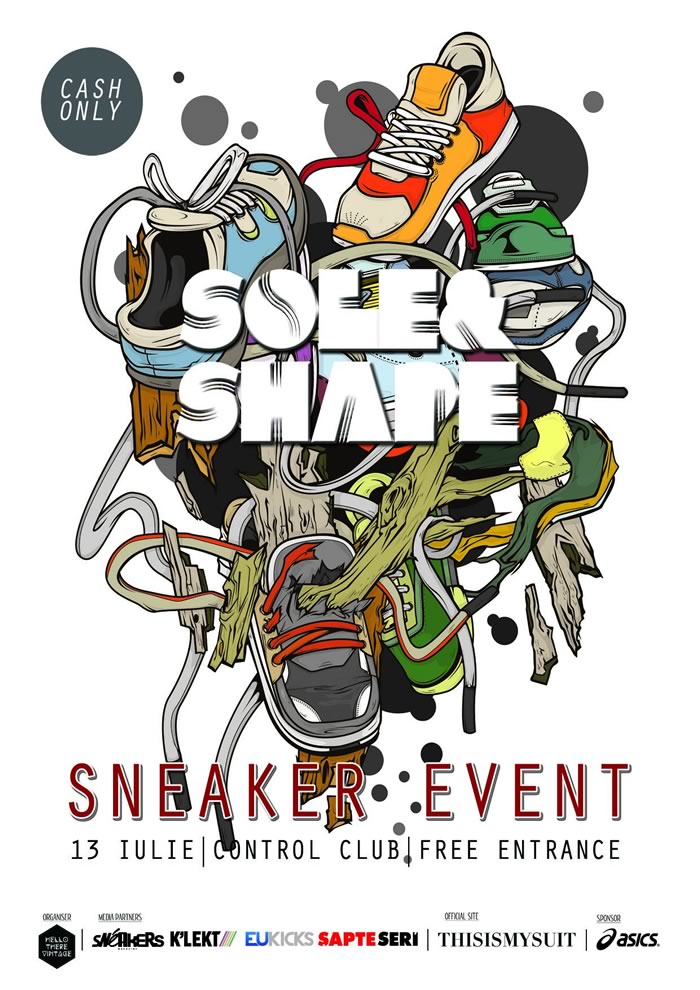 SOLE & SHAPE - 1st SNEAKER EVENT in BUCHAREST, ROMANIA
13 iulie, Control Club - Sala Mare, 1 - 8pm
- FREE ENTRANCE -
What's this?
BUY / SELL / TRADE / EXHIBIT - MARKET
- CASH ONLY -
What to expect?
NEW & VINTAGE / URBAN & CONTEMPORARY
SNEAKERS / CLOTHING, ACCESSORIES & STUFF
COLLECTORS ITEMS / ONE OF A KIND & SAMPLES / PRINTS & MAGAZINES / RECORDS & TOYS
Short video teaser HERE vimeo.com/99118744.
Facebook event HERE facebook.com/events/1446579832265013/.
With the incipient rise of sneaker addiction in our country and especially on a global level, an event of this feature was long-expected.
Lovers of sneaker culture are lucky, SOLE & SHAPE facebook.com/soleandshapelands in the capital of Romania to become THE FIRST SNEAKER EVENT taking place in our country.
This event has been organized by one collector and one enthusiast. Our aim is to reunite sneaker lovers and gather the best from shops, the crème de la crème of specialized vendors and displayers, celebrating the sneaker culture - as other countries have been doing for years now.
An open market/swap with FREE ENTRANCE, made by and for the love of sneakers - SOLE & SHAPE #1 will take place at Control Club - Sala Mare, on 13th of July, from 1:00pm to 8:00pm.
The market/swap will include vendors, displayers, collectors, new and vintage, urban and contemporary, clothing, accessories and stuff, and of course the opportunity for all attendees to buy, sell, trade and exhibit their own sneakers.
PARTICIPATION
If you're interested in participating in this unique project, just drop us a line at hello@thisismysuit.com.
TICKETS: FREE ENTRANCE
PAYMENTS: CASH ONLY - EURO & RON (LEI)
ORGANISERS
Dorin S. aka Dennis Green - Sneaker freaker, collector & the owner of Hello There Vintage SHOP, also the head behind THIS IS MY SUIT magazine.
Alexandru Manda - Enthusiast & business partner at Bicicletele Pegas, also one of the vinyl collectors & music spinners from Disco Sigaretta.
If you want to keep abreast of everything that will happen in the event, you can follow SOLE & SHAPE on facebook fb.com/SOLEandSHAPE.
VENDORS & DISPLAYERS:
Hello There Vintage, ASICS Romania, Novesta, Bicicletele Pegas, Rookie Skates Romania, OllieGang, Imperator, PORC, Deliric & DOC, Krack, Woden, Hypemeister, Atelier Brut, Lunet, WOLF 25, Vika Tonu Design, Stereo Socks, In Fata Blocului, Bumbag - Ramona Manea, Barboși, Lana X Britnic, Tattooit RO & other local and international private sellers.
MAIN PARTNER:
Control Club facebook.com/clubcontrol
OFFICIAL SITE:
THIS IS MY SUIT.com thisismysuit.com
ARTWORK by 1000day bit.ly/1luKljn
SPONSOR: ASICS Romania
www.facebook.com/pages/ASICS-Romania/178063065666591
MEDIA PARTNERS:
SNEAKERS MAG , KLEKT, EU Kicks, SapteSeri, nicecream.fm
Pentru si mai multe informatii va stau la dispozitie:
Dorin S. aka Dennis G.
+(40) 755 164301
thisismysuit.com
fb.com/THISISMYSUITmag
fb.com/HelloThereVintage
fb.com/SOLEandSHAPE