Marche de Noel – Targul cadourilor de designer 2015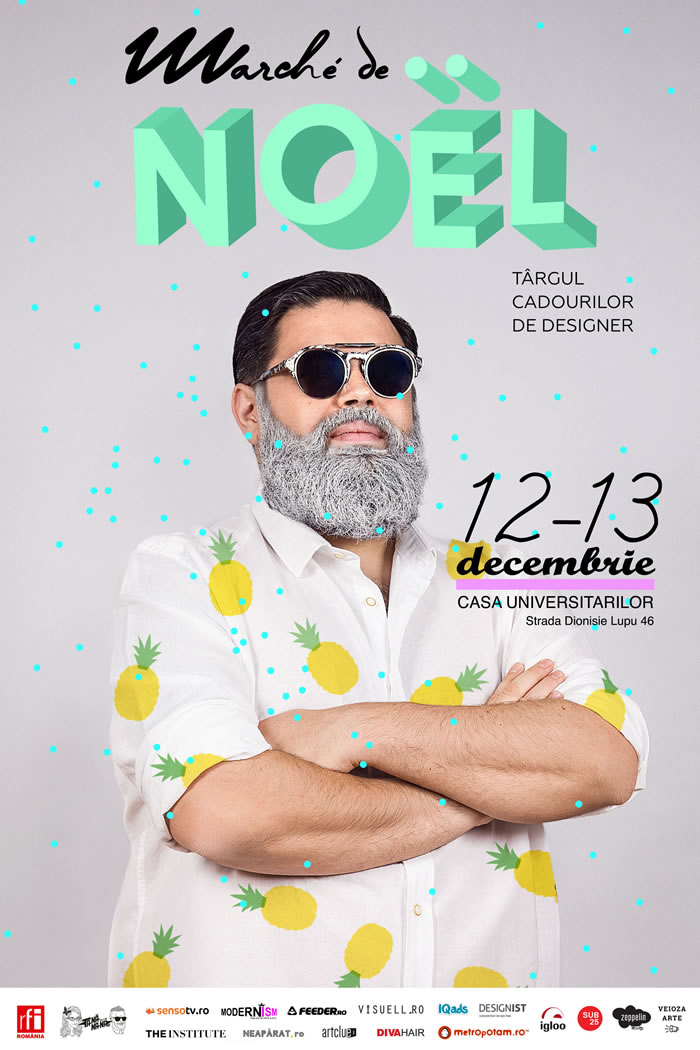 NOEL. MARCHE DE NOEL - Targul cadourilor de designer
Casa Universitarilor/ 12 & 13 decembrie
Weekend-ul acesta ai o intalnire cat se poate de hot: pe 12 si 13 decembrie, Marché de Noël, Targul cadourilor de designer, aniverseaza 7 ani si e mai in forma ca oricand, gata sa te cucereasca cu cadouri sofisticate, minunate si atat de inspirate - toate semnate de designeri romani.
Cam greu sa spui "nu" unui flirt delicios si pe alocuri nevinovat cu bijuterii de autor, obiecte de design, ilustratii originale, fashion subtil, beauty natural sau decoratiuni neasteptate. Si, ca sa fie sigur ca te indragostesti, NOËL vine la intalnire cu intariri - iata cine sunt reprezentatii lui la editia cu numarul 7:
Adelina Petcan, MOST Jewelry by Monica Stanescu, Andreia G. Popescu, Utopic - Mona Vulpoiu, MyPrecious Buzztard, Ioana Enache Jewelry Studio, Noha Nicolescu, Corina Mardari, ArtizAna, snob., Mariana Tanasescu, Falx, Simona Ghiga, Imaculatura, Ana Wagner, Contemporia, Reframe by David Sandu, Oana Lupas, Mihaela Cretescu, Christine on the Clouds, AFMF (Aesthetic Freedom/Manufactured for Fun), Edita Lupea, Cristian Samfira, Florentina Giol, Fabrik, Adriana Goilav, Daniela Barb, LoSpaccio, Crepe.Black.Collar, NOON, GOLDMine, Fundatia Doina Levintza, Band of Creators, Carmen Secareanu, Fandacsia, Atelier Bogdan Deliu Design, Iutta, Don Papillon, Sonja Line, Bianca Popp, Undress, Laura Olaru, Colours Of My Life, Home Creators, Caravana Mesteshukarilor, Artfooly, Mestesukar Boutiq, Marie Nouvelle, Inorog, Cai Verzi pe Pereti, Marele Deget Mare, Dunga, Zulunatic, Ramona Bejan, Art Time, MellonCollie Ceramics, Keramice, Bohemian Flow, V for VERDE (Your Personal Aroma, Techir, Raftul cu miresme, Avalon), Luviane Atelier de parfumerie, Natural Nutrition Cosmetics, Omnivore's Dilemma.
E palpitant ca un first date - sunt doar atatea lucruri noi de descoperit, nu? - dar mult mai relaxant, pentru ca Noël e deja cucerit:). Trebuie doar sa vii, de restul se ocupa Noël!
Casa Universitarilor, Strada Dionisie Lupu nr.46, sector 2, Bucuresti
Orar: sambata 12 decembrie, duminica 13 decembrie: 11.00 - 20.00
Bilet de intrare: 10 lei
Parteneri Media: RFI, Radio Tananana, Designist, Modernism, Feeder, Visuell, The Institute, Zeppelin, IQads, Sub25, Igloo, Art Clue, Metropotam, DivaHair, Neaparat.ro, NewEditionNews.ro, Senso TV, Veioza Arte, Dedesign.tv
Contact:
Liana Vasilescu: now@dautor.ro
0724 506 724