Artcademy
---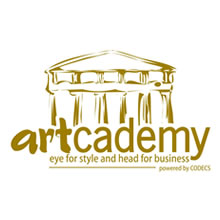 Artcademy
Adresa:
str. Agricultori, nr. 37-39, Bucuresti
Telefon:
021.252.51.82 / 3/ 4
Website:
Email:
office@artcademy.ro
---
Prezentare
artcademy este un nou concept de studii superioare dedicate industriei modei din Romania lansat de CODECS impreuna cu L'Institut Supérieur Spécialisé de la Mode din Paris (MOD'SPÉ Paris) in octombrie 2011. Programul ofera in premiera in Romania cursuri certificate international in acest domeniu: Consumer Behaviour, Sourcing of Fashion Products, International Trade, E-marketing Strategies and E-business, Fashion &Brand Communication, Financial Management, Customer Relationship Management, Collection Process, etc. structurate astfel incat sa poata oferi o aplicabilitate imediata a subiectelor studiate, prin studii de caz si prin interactiunea cu lectorii MOD'SPÉ Paris. Acestia sunt practicieni, reprezentanti ai unor companii de marca din industria franceza a modei: Louis Vuitton, Gucci, Kenzo, Balenciaga, Chanel, Guy Laroche, Armani, Nina Ricci, Yves Rocher, Chantelle, Galeries Lafayette, Etam, Celio, GAP, etc.
Creat in 1993 ca o initiativa a profesionistilor din French Federation of women's Ready-to-wear (la Fédération Française du Prêt-à-porter Féminin) si sprijinit de catre autoritatile franceze prin intermediul Comitetului pentru dezvoltarea si promovarea de imbracaminte si textile (Defi), MOD'SPE Paris pregateste elevii sai sa devina profesionisti de inalta calificare in marketing-ul de moda.
Programul se adreseaza persoanelor interesate sa dobandeasca o calificare in domenii precum styling, fashion buying, fashion marketing, fashion/network coordinating, visual merchandising, product/ brand management, jurnalism de moda sau design, dar si tuturor celor interesati de moda.